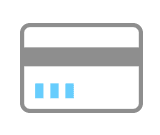 Balance due
This insurance is contracted collectively through financial institutions or through associations that grant credit to clients or associates. The objective is to repay the balance of the debt in cases that the debtor or the insurance holder dies.
Unemployment Insurance
It provides protection for the insured in case of dismissal with employer responsibility, covering the loan installments for 6 to 12 month periods. This insurance can only be contracted collectively through financial institutions.
Theft and fraud
This insurance offers the following coverage: loss for fraudulent use, cloning, and the alteration or counterfeiting of the credit card by a third part. Replacement of the credit card for robbery, assault or theft in an ATM. Robbery or theft in ATM up to the maximum amount indicated in the particular conditions.